Short Race report, as I was able to participate in Adventure Enablers' Resolution Run for the second year in a row. The original goal was to run with the family like last year1, so I wasn't thinking about actually "racing"… but more as a motivator for the younger two as they were going to attempt the 5k vs. the 1mile fun run.
When the family bailed because of being too cold, was sick, or simply slept in2… I decided to use this 5k as a fitness self assessment compared to one year ago. I had a great time connecting with fellow teammate and Ironman Louisville finisher Patricia! We both won our age groups, so it was a happy walk back to the cars.
Race Results
Rankings
Overall: Placed 3rd out of 93 (Couple of u15 kicked my ass, and winner was Julia by a full minute over 2nd)
Gender: Placed 2nd out of 44
Male 40-49: Placed 1st out of 14
Race Photos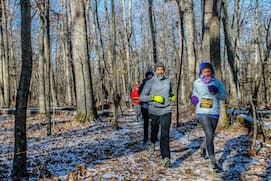 Splits
| Running | Total |
| --- | --- |
| Goal Times3 | 24:23.18 |
| Actual Times4 | 23:34.6 |
Footnotes
Comments are closed. If you have a question concerning the content of this page, please feel free to contact me.