Today, Intego announced of a new trojan designed for the Mac dubbed "DevilRobber".
You can read Intego's site (or many other sites posting about this trojan), but I wanted to remind everyone that there is a built-in anti-virus software within updated versions of Snow Leopard (version 10.6.7 with Security Update 2011-003 OR greater) and Lion called XProtect.
Xprotect is enabled by going to System Preferences => Security => General tab and check the "Automatically update safe downloads list". If you ever want to update your list, just uncheck / recheck the option.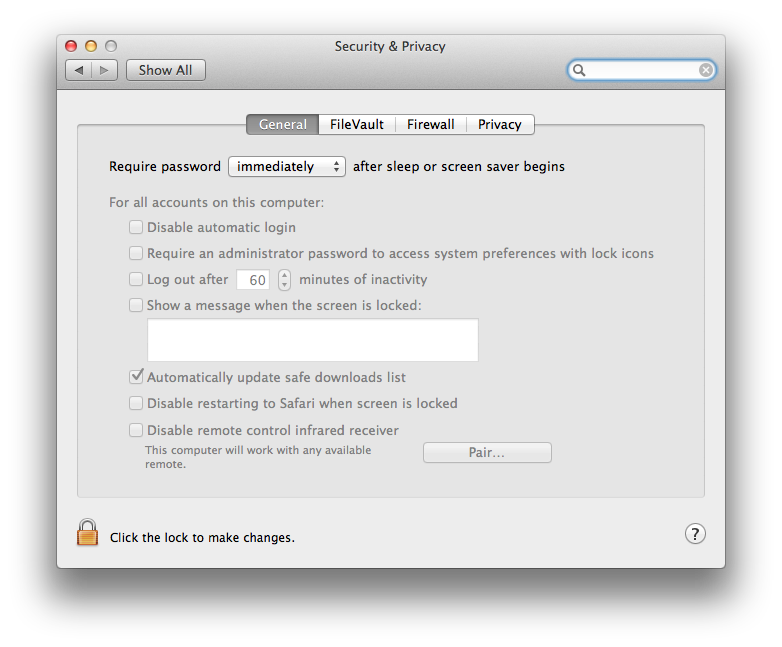 (Notice, my settings may look different from yours as I have FileVault enabled along with other MCX settings. The safe downloads list is what's important for this article.)
However, let's get a little more information from Xprotect.
If we run to following command "today" (11/1/2011 @ 11am Eastern), we get the following results:
This tells us that our anti-virus dictionary file has not been updated since Oct 11th of 2011. In order to update your dictionary, you can use the above check / recheck method or:
You will notice that as of right now the XPotect meta file timestamp has not change. I assume Apple will soon update this file to protect Mac users from DevilRobber, or any other future trojan/virus that gets created. We're just dependent on Apple to update their dictionary just the same as Intego / Sophos / etc users are dependent on their paid software to update their dictionary file. Once the file is updated, you should get a similar result for MacDefender.
Update
XProtect.plist file has been updated as of Nov 1st, 2011, and if you grep for "Devil" you will get a response of "OSX.DevilRobber.A". Pretty quick (and automatically done) as the announcement was on Nov 1st.
Comments are closed. If you have a question concerning the content of this page, please feel free to contact me.